text.skipToContent
text.skipToNavigation
Sports Compression Socks Ball & Racket
Medical compression sports socks for ball and racket sports - specialised taping and toning zones - breathable, comfortable and durable
Price incl. tax, excl. shipping costs
Benefit from reduced muscle vibrations and improved body awareness
Taping zone stabilises the ankle
Muscle toning zone stabilises the calf reducing muscle vibration
Description
Fast acceleration and turning, and sudden stopping and jumping are typical movements performed when playing ball and racket sports that put the ankle and calf in particular under stress. The Sports Compression Socks Ball & Racket target these areas with special compression zones to improve agility. The distinctive taping zone encircles the ankle in a figure eight and provides mild compression. This improves stability and proprioception during movement, and enhances coordination. The muscle toning zone also gently compresses the calf area, which stimulates the muscles in a targeted manner , while padding in the toe, forefoot and heel areas provides a shock-absorbing effect. A cut-out in the area of the Achilles tendon prevents uncomfortable pressure or friction.
The knee-high socks, which come in a sporty design, are durable, breathable and stay in place. They can be washed at 30 °C and can be tumble-dried. To ensure the correct size is selected, the circumference at the widest part of the calf and the shoe size must be measured.
Material composition: 93% Polyamide, 7% Elastane
Information on how to care for your product. you are gonna find here.
Benefit from reduced muscle vibrations and improved body awareness
Taping zone stabilises the ankle
Muscle toning zone stabilises the calf reducing muscle vibration
Breathable high-tech microfibre fabric with a temperature and moisture-regulating effect
Shock-absorbing cushioning of sole area and cut-out on the achilles tendon prevent pressure and friction
Durable, toxic-free product of robust quality
How you can measure for the best fit for great impact:
A) Measure the circumference of your calf at the largest point. B) Use your standard shoe size to determine the length of your socks.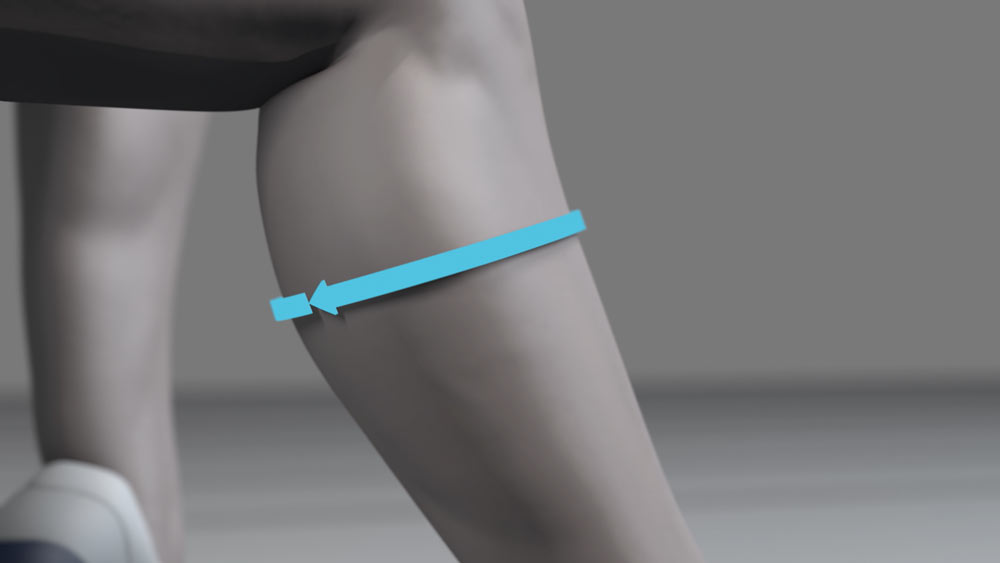 Sizing Table