text.skipToContent
text.skipToNavigation
Sports Insoles Ski & Skate
Insoles for your winter sports - stability, support & comfort, antibacterial & cold-protecting cover, durable
Price incl. tax, excl. shipping costs
Reduces foot muscle fatigue, supports the natural movement of the feet
Greater control through toe bank increasing the contact surface area in your shoe
No cold feet through a cover that regulates the heat to protect against freezing
Description
Ski & Skate sports foot orthoses stimulate the feet and keep them fit for longer during winter sports. This is particularly beneficial for feet stuck in rigid footwear like ski boots, where movement is limited and fatigue sets in quickly.
This is how they work: the flexible orthotic core supports and guides the foot from below. The integrated X-shaped module of the orthoses makes them completely unique. It actively promotes the natural mobility of the feet, ensuring longer pain-free performance. The skin-friendly and custom shaped surface creates a soft cushion for the foot. The shaped heel provides additional support. Tiny spots stimulate the muscles in the foot, which improves coordination. The slightly raised shape underneath the toes straightens them and prevents cramping. The contact between foot and shoe is optimised, ensuring improved control of the sports equipment. And the thermo-regulating top cover of the orthoses keeps feet cosy and warm, which is particularly important in cold environments.
Material: 55% Polyester, 45% Polyurethane
Reduces foot muscle fatigue, supports the natural movement of the feet
Greater control through toe bank increasing the contact surface area in your shoe
No cold feet through a cover that regulates the heat to protect against freezing
Slight heel cup for guiding and stabilising the foot
Enhanced body awareness through proprioceptive spots that stimulate the foot muscles
Shock absorbing cushioning in the forefoot and hindfoot areas
Antibacterial cover inhibits odours
Durable, toxic-free product of robust quality
Sizing Table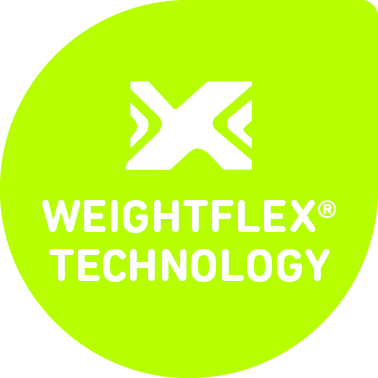 Weightflex Technology
Unique, patented dual-component core with an innovative X-shaped module supports the arch of the foot and better controls the foot's heel-to-toe movement.

Made in Germany
Premium materials and the highest production standards since 1929