text.skipToContent
text.skipToNavigation
Sports Insoles Run & Walk
Insoles for running and walking - safe and secure step, antibacterial cover, durable
Price incl. tax, excl. shipping costs
Reduces foot muscle fatigue and supports the natural movement of the feet
Prevents injuries caused by excessive strain
Shock absorbing cushioning in the forefoot and hindfoot areas
Description
Run & Walk sports foot orthoses ensure a comfortable and protected step while running, hiking, and walking. They support the correct movement sequence and improve foot comfort in sports shoes.
This is how they work: the flexible orthotic core supports and guides the foot from below. The integrated X-shaped module of the orthoses makes them completely unique. It actively promotes the natural mobility of the feet, ensuring longer pain-free performance. The skin-friendly surface is designed to support sports activity. Padding in the forefoot and hindfoot areas provides reliable cushioning when the heel hits the ground and the toes push off. The slightly cupped shape on the heel stabilises the foot and offers support for the ankle. Tiny spots stimulate the muscles in the foot, thus improving motor skills. The slightly raised shape underneath the toes straightens them and prevents cramping. The top cover of the orthoses is also perfectly suited for sports activities: it is antibacterial and inhibits foot odour.
Material: 55% Polyester, 45% Polyurethane
Reduces foot muscle fatigue and supports the natural movement of the feet
Prevents injuries caused by excessive strain
Shock absorbing cushioning in the forefoot and hindfoot areas
Slight heel cup for guiding and stabilising the foot
Enhanced body awareness through proprioceptive spots that stimulate the foot muscles
Antibacterial cover inhibits odours
Durable, toxic-free product of robust quality
Sizing Table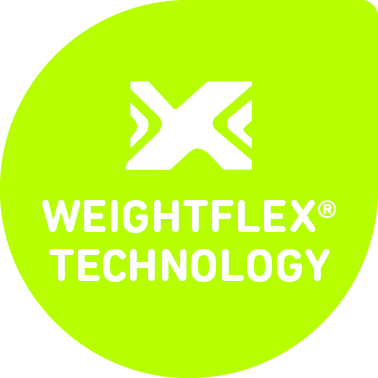 Weightflex Technology
Unique, patented dual-component core with an innovative X-shaped module supports the arch of the foot and better controls the foot's heel-to-toe movement.

Made in Germany
Premium materials and the highest production standards since 1929